Join us in sacred circle as we deepen our understanding and practice in the Healing Art of Reiki Energy medicine:
Whether you are newly certified in Reiki 1 or a practicing Reiki Master, all are welcome and all contribute to the synergy of this Reiki Development Circle.

COME:
Replenish your energy

Connect with other like-minded friends

Learn new skills to deepen your practice
and new tools to keep yourself strong and clear

Practice your skills (offer reiki)

Practice the art of receiving (receive reiki)

Share or bring questions about what is happening with your own practice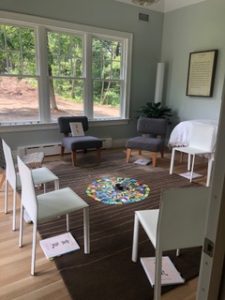 Hosted by Christine in her tranquil home
healing center in Concord, MA
All sessions are 2 hours long and include
discussion, practice and skills building.
$65 per session
June 11th, 2020, 7-9pm | September 17th, 2020, 7-9pm
These intimate Reiki Development Circles will be limited to 9 people and often fill up quickly.
Please contact Christine with any questions or email her if you'd like to be placed on the wait list.
♥

Christine